Constructive Media makes the news(paper)!
A development of mass proportions is under way in the heart of the city, and it's good to see our 3D model being used in the marketing process!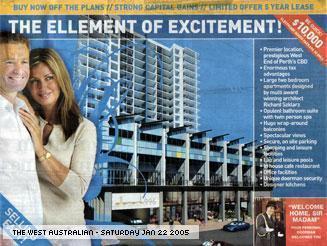 Designed by Richard Szklarz, Ellement is located in the West End of the Perth CBD and features, amongst many other things, your very own doorman!
You'll bound to see plenty of marketing for this development in the upcoming weeks – there's TV advertisements as well as newspaper ads – if you are interested check out their web site and/or contact a sales representative from the Mark Hay Realty Group.
Related Links:
View full page advertisement: click here
Ellement 996 Web Site: www.ellement996.com.au
Mark Hay Realty Group: www.markhayrealtygroup.com.au
Let's Work Together:
To start your next project, simply let us know a little about yourself and let's work together to build something great!
---