No, it's not a reference to the ever-popular Da Vinci Code, Harden-Jones Architects has been featured in the Prestige Property section of the Sunday Times (Article by Jennie Fitzhardinge, July 03, 2005) – it is an interesting article of how architect Giles Harden-Jones has helped to enlighten the Perth landscape with interesting designs, in spite of opposition from local councils.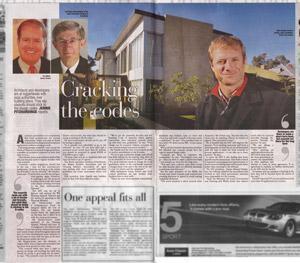 The reason why you can find the article here (apart from the fact that it's just a good read) is that Constructive Media has assisted Harden-Jones Architects in the past by providing pre-construction visuals of his designs. It is an important use for our visuals, and more and more we are finding its use for helping clients to communicate with local councils and authorities.
Being designers ourselves, we are all for pushing new concepts, designs, and innovation in architectural design to the Perth market. After all, what would this world be if there wasn't something interesting to look at, talk about, and have an opinion of?
You can view the article by clicking on the small thumbnail image to the right, or alternatively the text from this article has been reproduced below for clarity. You might want to get a cup of your tea and some biccies before reading this though!
Cracking the codes, article by Jennie Fitzhardinge, Sunday Times.
Architects and builders are complaining that local governments are causing unnecessary delays and costs to home builders by knocking back development applications without strong grounds.
Following prestige property's story about the Town of Vincent's proposed design guidelines, a number of architects contacted us with their tales of woe.
Giles Harden-Jones is an architect and builder who has become used to regular stoushes with local councils.
"Councils – and/or neighbours, should that be the case – may not like contemporary architecture, however as long as it fits within the R-Codes it can be allowed," Mr Harden-Jones says. "It seems that councils are trying to over-regulate again. However, if challenged and the proposal is within the R-Code, they stand a fair chance of being overruled by the State Administrative Tribunal."
The SAT was set up in January and replaces the WA Planning Appeals Tribunal and the option of appealing to the Planning Minister.
My Harden-Jones cites a contemporary house he designed within the City of Subiaco. The city initially turned down the application on the basis that it didn't fit in with the existing streetscape.
Mr Harden-Jones's client appealed to the Planning Appeals Tribunal and won. In its judgement, the tribunal said Subiaco "in its own policies exhorts innovation and variety. It must of itself recognise and accept that not every development must replicate or be the same or even look the same as all other developments within the street."
Mr Harden-Jones says this deceision, in August 2003, was an important precedent that has since been quoted in other cases.
"The councils think they have a right to govern on design and building, but what they should be doing is governing the R-Codes," he says. "The councils come out with a lot of bluster and bravado, but what they should be doing is sticking to the R-Codes."
He says homeowners should not be put off by having to appeal.
"It is actually very affordable to go to the tribunal," he says. "If you have land and a potential house worth more than $1 million, you should be prepared to spend $5000 to $10,000 to get it right."
"In most cases you go to mediation first and may not have to go to appeal."
The Royal Australian Institute of Architects, the Master Builders Association and the Housing Industry Association all agree that dealing with local councils' individual guidelines can create unnecessary delays and costs.
HIA president John Dastlik says builders have to deal with three different codes.
"We've got the statewide R-Codes and Building Code of Australia which are nationwide, then individual councils come up with their own guidelines," he says. "One design can be accepted without comment in one council and get rejected in another."
Mr Dastlik says the State Government needs to restrict amendments to the R-Codes.
"If you've got a statewide design code which has been written by the experts, why allow it to be amended by local councillors?" he asks. "If a local authority wants to change the local guidelines, where is the cost-benefit analysis? Changes mean costs and at the end of the day it costs our clients and the ratepayers."
MBA spokesman Gavan Forster says local council guidelines are just another issue builders have to deal with.
"There are new environmental sustainability standards that builders have to meet and when you add local councils it becomes more complicated," he says. "Our members have to deal with 144 shires across WA – it just causes delays."
WA Local Goverment Association president Bill Mitchell says councils should have the right to amend design codes.
"Councils are there to represent the community," he says. "Developers come and go – they are there to make a short-term buck – but councils are there for the long term."
"You can't have uniform town plans across the state because there are different demands, populations and character."
But the state president of the RAIA, Ian Dewar, says many councils send controversial planning decisions to appeal to avoid making unpopular decisions.
"The worst situation is when councils defer decisions," Mr Dewar says, "because then the client can't do anything. There's no avenue of appeal. They just have to wait."
He is hopeful that the SAT will improve the process. "It is working extremely well from a planning point of view, but we are all frustrated with the time it takes for local councils to process applications – it can take up to three months," he says.
It seems the SAT is also finding that many appeals may be unnecessary. This week it issued a statement encouraging local governments to resolve minor building issues with householders rather than resorting to the tribunal.
The SAT president, Justice Michael Barker, says the tribunal adopted the procedures that worked so well when government ministers were responsible for the reviews.
"Both the Ministers for Local Government and Housing and Works found that matters could often be resolved amicably through discussion between the parties," he says.
"We are taking a similar approach."
"After receiving an application for review, the SAT will in most cases ask the local government to contact the householder or other applicant and attempt to come to some agreement. If an agreement is reached, no further involvement by the SAT may be needed."
"If matters end up coming to a hearing at the SAT, they will be decided upon the merits of the case."
The SAT inherited 107 reviews and has received more than 40 applications for reviews.
Related links:
Sunday Times: www.sundaytimes.com.au
Let's Work Together:
To start your next project, simply let us know a little about yourself and let's work together to build something great!
---