Desktop Strategies and Constructive Media
A wonderful business relationship between Gemmill Homes and Constructive Media has continued to blossom after Constructive Media was originally commissioned to work on producing 3D visuals for this exciting home builder. In conjunction with Desktop Strategies, (marketing partners with Gemmill Homes) Constructive Media has worked to produce the Gemmill Homes web site, even garnering a mention in their latest newsletter!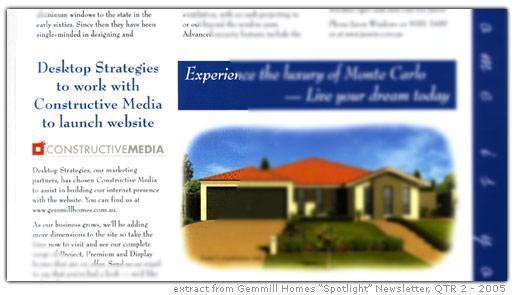 In related news, Gemmill Homes has recently opened its latest display home, The Shoalwater, located in Baldivis Central at Lot 610 Baldivis Rd and is the second display home to be opened by Gemmill Homes, with a third on the way!
For more information on the Gemmill Homes range of homes, please visit the web site where you can request a brochure.
Related Links:
Gemmill Homes: www.gemmillhomes.com.au
Let's Work Together:
To start your next project, simply let us know a little about yourself and let's work together to build something great!
---