Domination (aka "Tootin' our own horn!")
YOU'D BE HARD-PRESSED TO FIND MORE TOOTING OF HORNS (unless you are registered to attend the Montana Big Horns Rendezvous) but when we flicked open the Sunday Times "Home" liftout we just so happened to find a double-page spread featuring three separate articles, all of which contained imagery made at Constructive Media!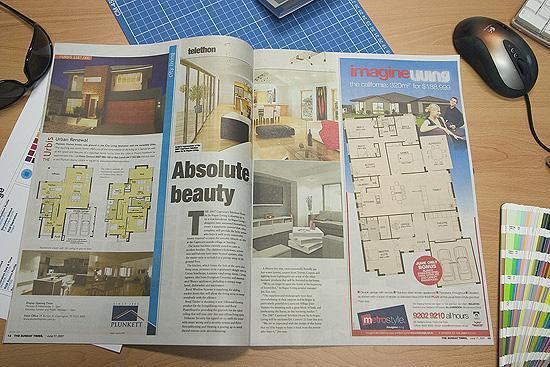 On the left we have the "Urbis" by Plunkett Homes, a superb new narrow lot design display home open in Mount Hawthorn, in the centre we have visions of the 2007 Capricorn Telethon Home by In-Vogue Living, and on the right we have a mouse and a Pantone fandeck — I mean, we have "The California" by Metrostyle.
If only we had time to sit back and admire the view, but we've got more work to do!
related links:
Plunkett Homes : www.plunketthomes.com.au
Telethon : telethon.7perth.com.au
In-Vogue Living : www.in-vogue.com.au
Let's Work Together:
To start your next project, simply let us know a little about yourself and let's work together to build something great!
---