Improving the view at Lakeside
If you were browsing through the real estate section of last weekend's West Australian, you may have spotted another example of Constructive Media's images – this time it is of a stunning townhouse development right on the lakes edge at The Rivergums in Baldivis. For more information you can visit the Cedar Woods web site, or visit the sales office off Baldivis Rd, south of the Kwinana Freeway/Safety Bay Rd roundabout.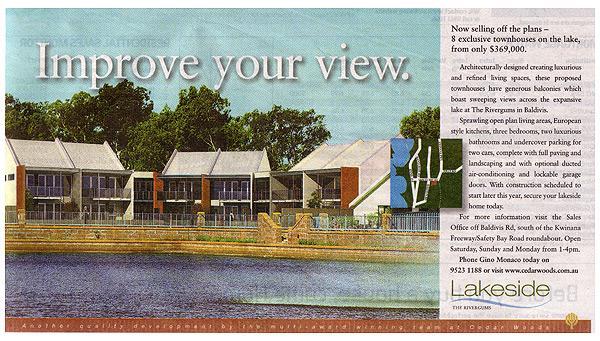 Together with the art direction and graphic designers at Linc Integrated, this newspaper advertisement illustrates good use of photomontaged images – a mix of the future with the present.
Related Links
Cedar Woods: www.cedarwoods.com.au
Linc Integrated: www.lincintegrated.com.au
The West Australian: www.thewest.com.au
Let's Work Together:
To start your next project, simply let us know a little about yourself and let's work together to build something great!
---