Progress continues with Maya at Constructive Media, and already the results are showing! Features like reflection blur, final gather and global illumination are in full swing, to produce more realistic lighting solutions.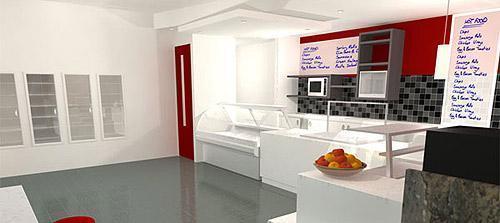 "Fully sick, 'ey" remarked Oskar Burchett, 3D modeller at Constructive Media – who was obviously happy with his work.
This new product at Constructive Media involved modelling specific furniture such as the hot food display unit, cappucino machine, and unique bulkheads, and is expected to assist Interior Designer Sally Kelson with layouts and colour selections for this proposed café development. The visuals, once completed, will also be used to promote the potential of this development to the tenant, and is sure to whet the appetites of the future café owners!
More developments are planned at Constructive Media now that the capabilities of Maya are being unlocked – and unleashed – on the community! Already we see potential for the modelling of more organic shapes, higher-quality furniture, and animations that can collectively enrich the standard of visuals produced.
Let's Work Together:
To start your next project, simply let us know a little about yourself and let's work together to build something great!
---