Loft Homes by Metrostyle launches
Filling a void in the current housing market, Loft Homes by Metrostyle has been launched in the weekend newspapers, and found in the Sunday Times "Home" liftout was this advertisement featuring 3D pre-construction images from (you guessed it!) Constructive Media!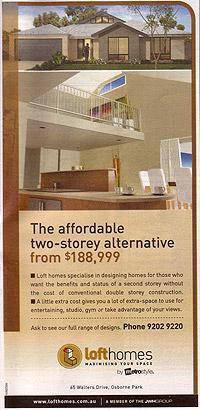 Constructive Media was asked to create the set of all pre-construction images for the Loft Homes range, and while the loft is an obvious addition to the elevation, it's really what's on the inside that makes the difference – so it's only natural that we were asked to provide the interior 3D visual as well!
Related Links:
Metrostyle: www.metrostyle.net.au
Let's Work Together:
To start your next project, simply let us know a little about yourself and let's work together to build something great!
---