Featured in the Sunday Times this weekend is an article on the development of some very chic shacks! Constructive Media was asked to produce some pre-construction 3D visuals for this $40 million beach shack development, as well as floor plan artwork and an innovative 3D top-down site plan.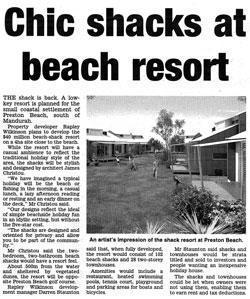 Designed by James Christou Architect, the beach shacks have a resort feel and are within walking distance to the beach. A perfect opportunity for an inexpensive holiday house, the development will also feature heated swimming pools, tennis court, and parking areas for boats and bicycles.
Constructive Media used proxies to place the 102 beach shacks and 28 townhouses on the site, this helped speed up the workflow immensely.
Article extract:
The shack is back. A low-key resort is planned for the small coastal settlement of Preston Beach, south of Mandurah.
Property developer Rapley Wilkinson plans to develop the $40 million beach-shack resort on a 4ha site close to the beach.
While the resort will have a casual ambience to reflect the traditional holiday style of the area, the shacks will be stylish and designed by architect James Christou.
"We have imagined a typical holiday will be the beach or fishing in the morning, a casual lunch, a lazy afternoon readin or resting and an early dinner on the deck," Mr Christou said.
"Our designs reflect the ideal of simple beachside holiday fun in an idyllic setting, but without the five-star cost. The shacks are designed and oriented for privacy and allow you to be part of the community."
Mr Christou said the two bedroom, two-bathroom beach shacks would have a resort feel.
About 500m from the water a sheltered by vegetated dunes, the resort will be opposite Preston Beach golf course.
Rapley Wilkinson development manager Darren Staunton said that, when fully developed, the resort would consist of 102 beach shacks and 28 two-storey townhouses.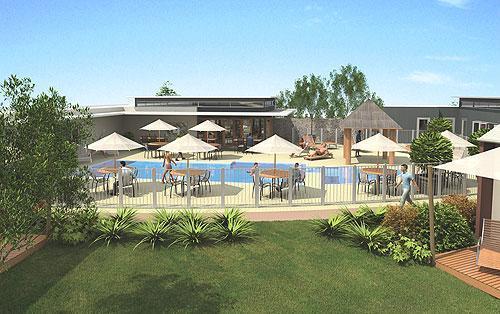 Amenities would include a restaurant, heated swimming pools, tennis court, playground and parking areas for boats and bicycles.
Mr Staunton said shacks and townhouses would be strata titled and sold to investors and people wanting an inexpensive holiday house.
The shacks and townhouses could be let when owners were not using them, enabling them to earn rent and tax deductions.
Related Links:
Rapley Wilkinson: www.rapley.com.au
Let's Work Together:
To start your next project, simply let us know a little about yourself and let's work together to build something great!
---