Shaping a Better World in 3D – Ideas realised in Design Visualisation
Constructive Media will be presenting with AutoDesk Media and Entertainment (Asia Pacific) on Monday 27 February, 2006 at the Duxton Hotel (Conference Room 3, 1 St Georges Tce) in Perth. The topic is "Ideas Realised in Design Visualisation" is best summarised by Autodesk's invitation:
(you can click on the thumbnail to view the entire invitation in all its glory)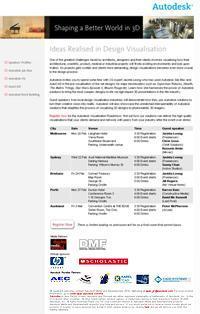 "One of the greatest challenges faced by architects, designers and their clients involves visualising how their architectural, scientific, product, medical or industrial projects will fit into existing environments and look upon fruition. As projects get costlier and clients more demanding, design visualisations become even more crucial to the design process.
Guest speakers from local design visualisation industries will demonstrate how they use Autodesk solutions to turn their creative vision into reality. Autodesk will also showcase the unmatched interoperability of Autodesk solutions that simplifies the process of visualising 2D designs to photorealistic 3D imagery."
If you are not in Perth, we still highly recommend that you catch this roadshow in Melbourne (20 Feb), Sydney (22 Feb), Brisbane (24 Feb), or in Auckland (3 Mar).
Let's Work Together:
To start your next project, simply let us know a little about yourself and let's work together to build something great!
---