When paper just doesn't cut it
Aside from getting over that lame papercut joke, we here at Constructive Media have been looking at improving the output quality of our in-house printed images. Having a super-big-do-it-all printer/copier is one thing, printing on standard 80gsm stock is another.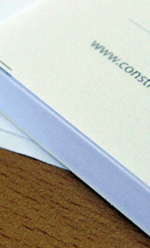 So we're in the process of trialling out various high quality papers from suppliers such as – Spicers, Edwards Dunlop, and Neusiedler. We're looking at thicker and whiter stock to use so printed images come out looking a lot more vibrant. Soon you'll be seeing "whiter whites and brighter colours!" – from the sounds of it, paper companies and washing powder companies do have a lot in common!
A big thank you goes out to Shane at Quick Corporate for getting us samples so quickly!
Related Links:
Spicers Paper: www.spicers.com.au
Quick Corporate: www.quickcorporate.com.au
Let's Work Together:
To start your next project, simply let us know a little about yourself and let's work together to build something great!
---