AutoDesk article on Constructive Media
AutoDesk have published a case study on Constructive Media entitled "The Future of Real Estate Marketing: Constructive Media Delivers Visual Solutions using Autodesk 3ds Max" – in both online and PDF formats.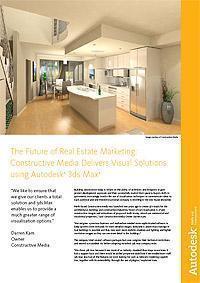 Extract from full article:
Building construction today is reliant on the ability of architects and designers to gain
project development approvals and then successfully market their space to buyers.Both requirements
increasingly involve the use of visualisation techniques to communicate ideas to
each audience and one Western Australian company is revelling in the new found discipline.
Perth-based Constructive Media was launched two years ago to create 3D visuals for the architectural, building, and construction industries."Most of our visualisation is of preconstruction images and animations of proposed multi-storey, mixed-use commercial and residential properties," said Constructive Media Owner Darren Kam.
"We outgrew a previous business and realised we needed more sophisticated software to keep up with client demands for more detailed images. Everyone is aware that creating virtual buildings is possible and they now want more realistic shadows and lighting and higher resolution images so they can see more detail in the buildings."
The company tried several software packages but soon outgrew their technical restrictions
and moved to Autodesk Viz before adopting Autodesk 3ds Max company wide.
Read more in the PDF here.
Let's Work Together:
To start your next project, simply let us know a little about yourself and let's work together to build something great!
---