What better way to spend a Sunday afternoon than to be 27m up in the air over Hay Street, held up by a cherry picker! Constructive Media was asked to provide high-resolution panoramic photography for an eight storey property development for Aria Land, so we called in long time friend and professional photographer Jon Davison, well renowned for his book "Beneath Southern Skies" which features some stunning aviation photography.
Jon, who obviously has no fear of heights, and as such took to this task which involved getting into a cherrypicker (operated by the legendary Leon from Aussie Cherrypickers) to take 360-degree panoramic photos for incorporation into brochures, signage, web sites, and 3D animations. Constructive Media will use the resulting panoramic images to integrate into their preview animations so that prospective clients can picture what their views will look like from inside their chosen apartment.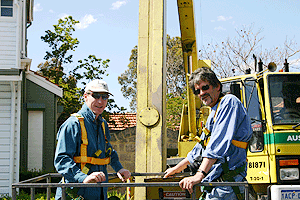 Paul Skinner (Aria Land) and Jon Davison (Eye in the Sky)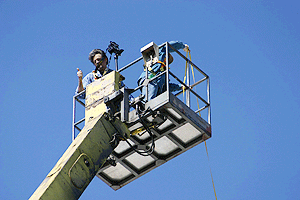 Way up high!
Jon Davison is about to release his second book, featuring photography on submarines appropriately titled "Beneath Southern Seas." There must be something about regular land that Jon is just not happy about, he must either be high up in the sky, or hundreds of metres below sea level…
Let's Work Together:
To start your next project, simply let us know a little about yourself and let's work together to build something great!
---