WE HAVE BEEN EXTREMELY PROUD TO ASSIST WITH THE PRE-CONSTRUCTION VISUALS for the Telethon Metropolitan and Regional homes now for a number of years, but this year we decided to "up the ante" by donating a fresh web site design to the generous people at Telethon!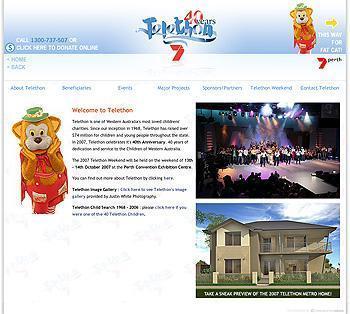 But don't let the spirit of giving stop here with the warm and fuzzies – we urge you to donate to this wonderful institution that is Telethon, whether by volunterring, donating your time, or by making an on-line donation. You'll be supporting a myriad of charities, and there's no better feeling than giving to those in need.
related links:
Telethon 2007: http://telethon.7perth.com.au
Let's Work Together:
To start your next project, simply let us know a little about yourself and let's work together to build something great!
---